REVOLVE™ Advanced Adipose System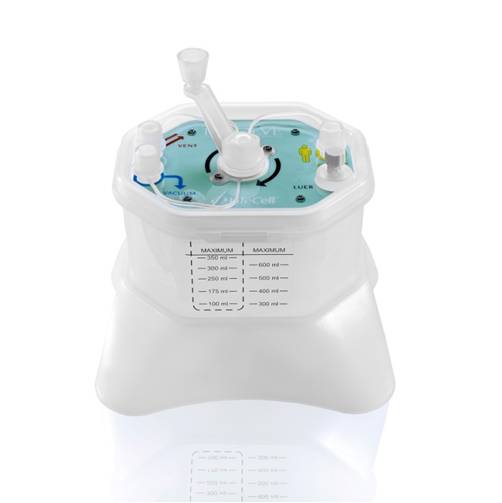 About REVOLVE™ Advanced Adipose System
REVOLVE™ SYSTEM FOR USE IN YOUR PLASTIC AND RECONSTRUCTIVE BREAST SURGERIES
Functional for small to large volume fat processing, from 100 to 350 mL of adipose per harvest.
WHAT IS THE REVOLVE™ SYSTEM?
• A sterile, single-use disposable tissue canister used for harvesting, filtering, separating, concentrating and transferring autologous tissue components for reintroduction to the same patient during a single surgical procedure
• A streamlined system designed to simplify fat processing for use in fat-transfer procedures
Designed to be user-friendly, efficient and cost-effective
• A time-efficient system shown to have processed large volumes of fat in approximately 10 minutes
– Only requires a few steps to process large quantities of adipose tissue
– Decreased operative time can lead to potential cost savings compared to centrifugation
• Proprietary collagen string catcher designed to minimize clogging within syringe tips to effectively enhance procedural speed.
The REVOLVE™ System is a relatively simple device which can be used in a variety of surgical settings.
The REVOLVE™ System can produce physiologically compatible, preinjection fat with reduced contaminants and free oil in conjunction with high fat content compared to centrifugation and decantation methods.
Preclinical results
Compared to centrifugation, decantation or PureGraft™, tissues processed with the REVOLVE™ System contained:
Greater numbers of viable fat cells
Higher fat cell activity
Greater numbers of stromal vascular fraction cells (SVF)
Greater numbers of colony-forming units (CFUs)
The tissue retained within the waste contained insignificant amounts of both fat cells and SVF cells
Compared to centrifugation and decantation, the REVOLVE™ System processed tissue contained:
Low amounts of extraneous fluid
Significantly less blood cell debris and free oil
Low hemoglobin (RBC) concentration
The REVOLVE™ System meets product endotoxin requirements.
In a rat model, percent fat retention from REVOLVE™ samples was significantly higher than that from decanted  samples (P <0.05) and was not significantly different to that from centrifuged samples
º 73.2% ± 14.7% (n = 79) for the REVOLVE™ System
º 67.7% ± 16.9% (n = 80) for centrifugation
º 37.5% ± 13.3% (n = 77) for decantation
In the same rat model, the REVOLVE™ System lead to reliable and reproducible fat graft retention.
Clinical results
Fat grafting helped improve aesthetic results through the correction of volume and shape, and has been shown to contour deformities in reconstructed breasts.
Patients who had fat grafting with the REVOLVE™ System (compared to centrifugation) required less subsequent surgeries and fewer patients experienced nodule or cyst formation.